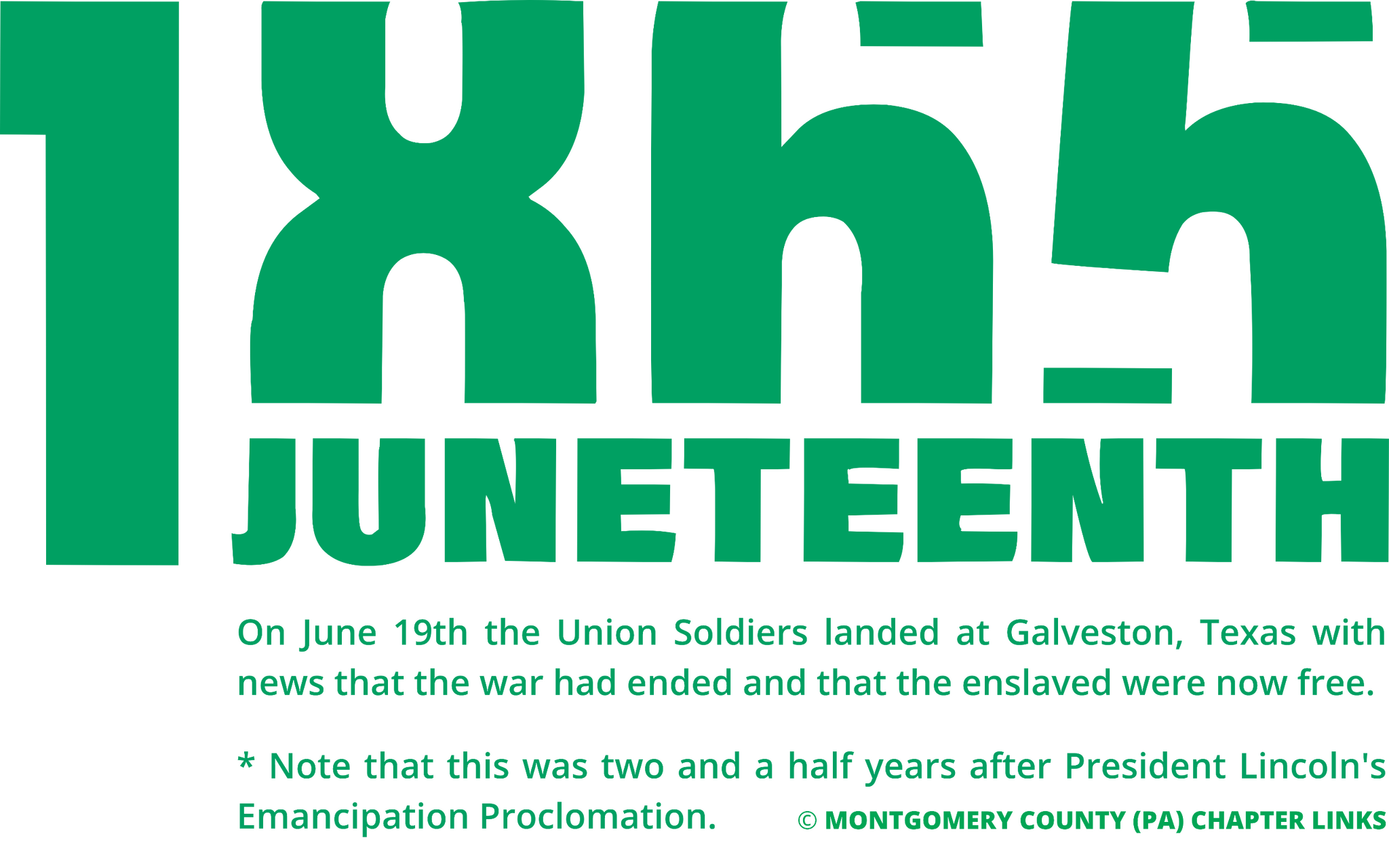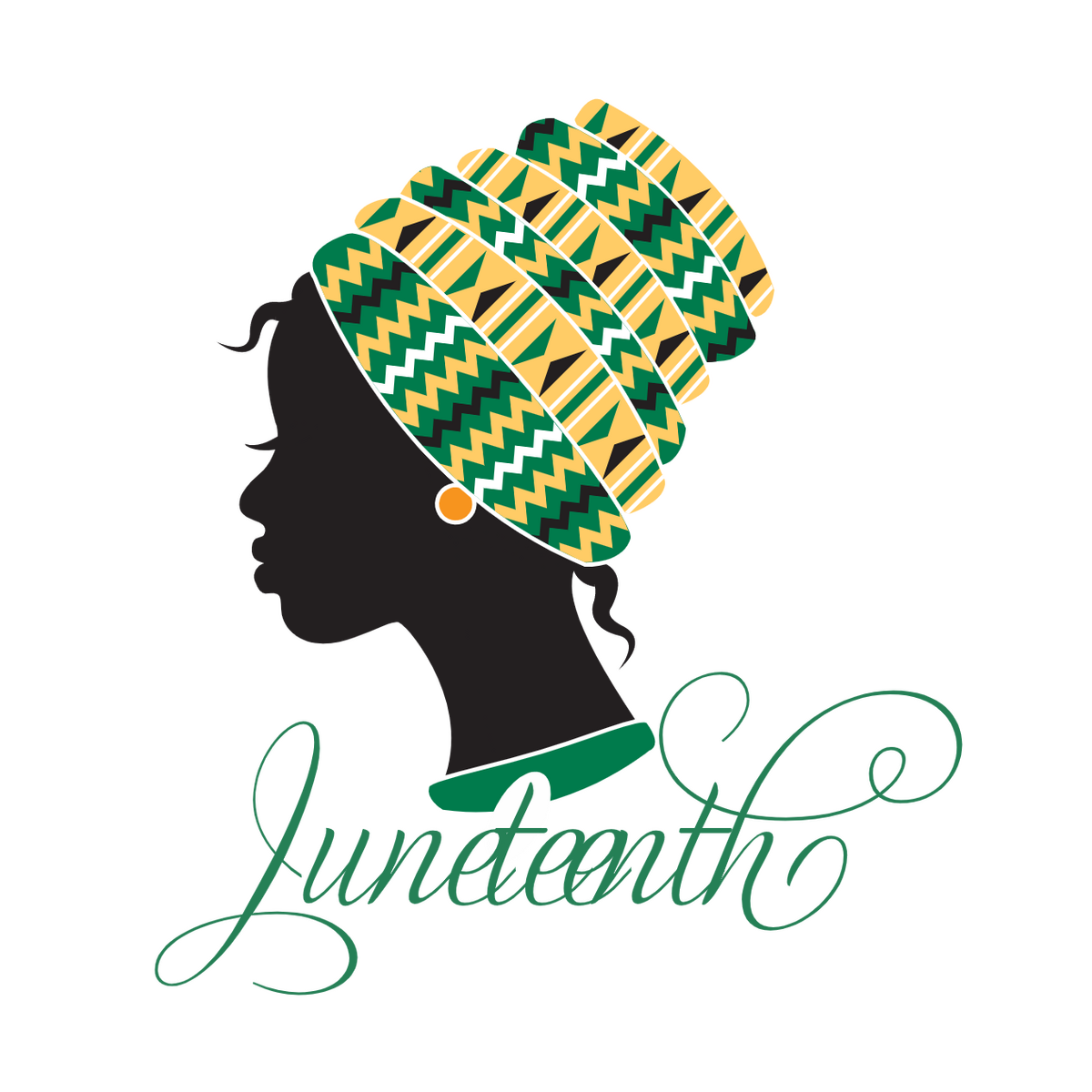 Celebrate with Us!
Although we have been so blessed in 2021 to witness history, 2022 represents truly the first full year in which we have observed Juneteenth as a national holiday. Despite this achievement, the fight is not over, and we must continue to encourage one another and work together to truly honor the spirit of liberation this day represents.With this,The Montgomery County (PA) chapter of The Links Incorporatedis looking forward to you joining us for an insightful and uplifting Juneteenth program. This will mark our chapter's 14th year highlighting this historical day and showcasing our commitment to service in our communities.Through our annual Juneteenth program, we strive to heighten awareness of the struggle for liberation of our people and foster a sense of unity and resilience that this day harkens. This year, although virtual, we have a tremendous program complete with a presentation by a Galveston, Texas historian to illuminate the story of Juneteenth. Additionally, we have signature design items for you and your family to showcase your Juneteenth pride. Our committee has worked hard to make it an event to be remembered!Your generous support goes directly to fund our facets and scholarships, and it is invaluable to our service. My hope is that you enjoy the program and are encouraged to continue to uplift and educate as together we walk the path of liberation, and self determination, and make real the promise of this nation for equality to be actualized for EVERY Black American in this country.Let us continue to make history!Forrestine Coombs
Montgomery County (PA) Chapter - President
-PROGRAM HIGHLIGHTS-
Reading of Emancipation ProclamationMusical InterludeStoryteller / Oral Rendition of JuneteenthJuneteenth Then & NowQ & A with Naomi Carter
TICKETS
Ticket sales end June 16, 2022*After June 8, purchased items CANNOT be guaranteed for delivery by June 18th.
All proceeds to benefit Chapter Scholarships & Facets
| Tickets | Price* |
| --- | --- |
| Virtual Celebration Ticket - incudes Experience Gift Box | $95 |
* An Online Processing Fee will be added to the ticket price.
Juneteenth: Black Independence Day
Naomi Mitchell Carrier, M.Ed. is a consummate educator, historian performing artist and author with a background in Black Music, Texas History, and heritage tourism. She has used her gifts to educate in the public arena for 40 years, at festivals, in museums, at schools and universities, libraries and historic sites, with exhibits, musicals, black history classes, workshops, and heritage tours. She began her career as a classroom teacher and has been a principal. She is a former professor at Houston Community College. Naomi is the founder and Executive Director of TCAALH (The Texas Center for African American Living History. She formerly served as Executive Director for the Convict Leasing and Labor Project during the time they were, seeking to memorialize the Sugarland 95 during which time she testified in the Legislature and wrote 25 stories.Carrier's research has resulted in two pieces of legislation:
- H.C.R.245 which recognizes the Underground Railroad from Texas to Mexico; TCAALH is a certified member of the National Park Service Network to Freedom UGRR Program.
- H.R.434 that established the bill for the Emancipation National Historic Trail Study.In 2017 Naomi Carrier completed the restoration of Mitchell Museum from her Grandfather's historic 1913 church in Lavaca County; and secured a historical marker for United States Colored Troops who participated in the Last Battle of the Civil War in the Rio Grande Valley. In 2018 she attended the UNESCO International Conference on New Approaches to Interpreting Slavery, in Charlottesville, VA; and the opening of the Lynching Museum in Montgomery, AL.Carrier's education includes Texas Southern University; University of North Texas; St. Thomas University, Houston; Harvard Graduate Department of Education; and she was a Rice University Scholar in Residence for her book, Reconstruction Era Texas. Other important achievements are I Am Annie Mae, the Musical, premiered at St. Edward's University, Austin, TX in 1987; and Go Down, Old Hannah: The Living History for African American Living History published by the University of Texas Press in 2010.
| Item | Price | Description |
| --- | --- | --- |
| Crew Neck T-Shirt | $32 | 100% Cotton - black OR white tee w/ green graphics |
| Tote Bag | $22 | Canvas - black w/ green graphics |
You Can Help Make A Difference!
Your generous sponsorship at the bronze, silver, gold or platinum level directly supports our facets and scholarships, and it is invaluable to our service. The distinguished women of the Montgomery County Chapter volunteer their time, talents and energy to impact men, women and children in the community and world.For more information on sponsorship levels and opportunities, please see below.
In order to receive the tax deduction, checks should be madepayable to:
The Links Foundationandmailed to:Montgomery County (PA) Links, Incorporated
P.O. Box 474
Blue Bell, PA 19422
Platinum | $5,000
- 10 Tickets (includes Experience Gift Boxes)
- Logo on Juneteenth Website
- Logo streaming during Juneteenth Event
- Video / Promo / Commercial
.
Gold | $2,500
- 7 Tickets (includes Experience Gift Boxes)
- Logo on Juneteenth Website
- Logo streaming during Juneteenth Event
.
Silver | $1,000
- 3 Tickets (includes Experience Gift Boxes)
- Logo on Juneteenth Website
.
Bronze | $500
- 1 Ticket (includes Experience Gift Box)
- Logo on Juneteenth Website
.